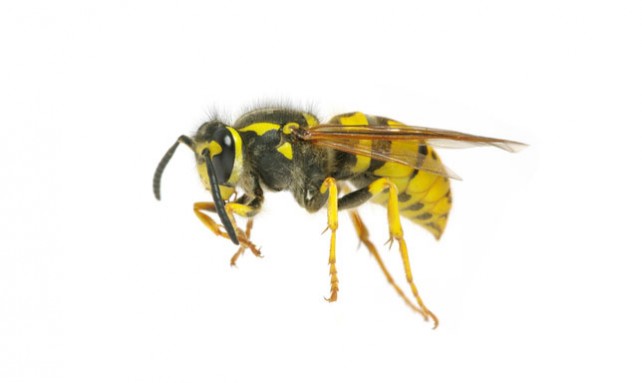 Recently there has been lots of buzzing around the number of wasps in Calgary – from news features to neighbours discussing the annoying little black and yellow pests – Wasps are certainly getting a lot of attention in and around Calgary this summer. But
One Man and a Lady Bug – a Calgary Pest Control Company – explains that wasps are lovers of warm weather and tend to congregate in their nest during cooler months. Calgary's early summer months consisted of wet, cooler temperatures, that didn't attract wasps out of their nest to explore other areas. Now that Calgary's daily temperatures are more consistent with typical summer weather – wasps are out and about – and we're noticing the increase in their activity.
Some Calgarians are reporting multi-stings from angry wasps and certain parts of the city are recording an increase in wasp activity – so what should you do when the wasps in your back yard aren't playing nice? The first step would be to stay away from a visible nest – keep young children and pets indoors – and contact a qualified Pest Management Company in Calgary. Tackling some unwanted ants in your yard is one thing – taking on a wasp nest that is housing some moody pests isn't a job for everyone – and can be a potentially dangerous activity as wasp stings can be lethal.
Turning to an experienced Pest Control Firm ensures that a wasp nest is removed safely – without incidence – is never a bad idea. Wasps may make their nests in the ground or in hard-to-reach places like attics and under decks – regardless of where your wasp nest is – always take extreme caution when attempting to remove it, and unless you are confident in the removal of a wasp nest – let the experts do the job for you. Calgary Pest Management and Control experts – One Man and a Lady Bug – wants you to have a stingless summer and encourages you to call them to discuss all aspects of wasp and pest management in Calgary.
One Man and a Lady Bug has further information regarding how to handle a wasp infestation on their website – for more guidance or to schedule a pest management appointment – contact this Calgary Pest Management Company today – 403.262.1666
This article was written by Angie Naimi. Visit her on Google+