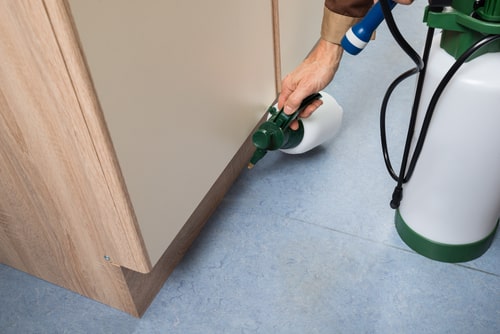 The recent deaths of two small children in Fort McMurray have once again raised numerous red flags regarding the use and safety of certain pesticides. The children, and other family members, were exposed to the noxious vapours emitted by Phosphine – a pesticide deemed illegal in Canada. But what can be done to prevent further tragedies?
Calgary Pest Control and Extermination Experts at One Man a Lady Bug explain that great caution should be exercised when handling any form of pesticide, as the chemicals used to wipe-out a colony of ants or a den of mice can also cause serious illness – and death – to humans.  Not having essential equipment to protect the skin, eyes and mucosal lining of the mouth and nose can result in a trip to the emergency and some serious lingering side-effects.
Always Call a Pest Management Expert
No one can fault someone who desperately wants to rid their home or business of unwanted and destructive pests.  Can you imagine awakening every morning to view bites all over your body – or to discover that your prized home is under the control of Termites – there's no question that once you know your home has pest issues your instinct is to take action, but slowing down and talking to experts who regularly deal with the control of household pests will avoid potential tragedies.
Are All Pesticides the Same?
Pesticides range in levels of toxicity – but what's important to note is that all are toxic to some degree and require care when handling.  What is often overlooked by homeowners who are keen to take on the job of exterminator is taking in to consideration who will be potentially exposed to the pesticide.  It's not just humans that succumb to the toxic influences – faithful pets can also be affected by chemicals in pesticides – leading to an unanticipated trip to the vet.
One Man and a Lady Bug is a Calgary based Pest Management Company that focuses on providing safe, environmentally friendly pest control solutions.  Working with highly trained technicians – this Pest Control Team puts your safety first when dealing with any form of pesticide, herbicide or insecticide – call them today for a quote 403.262.1666