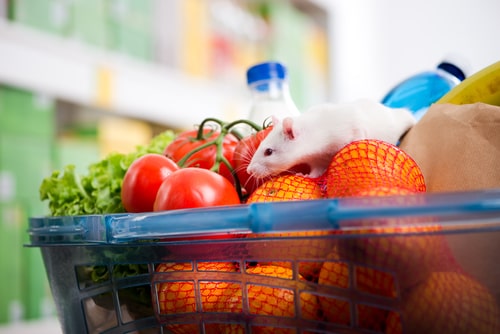 If you're a retail store owner you're probably always on the look-out for signs of bug or pest issues like rodent activity – issues that can drive the public from your store, taking with them bad reviews and potential income.
Calgary Pest Control Experts at One Man and a Ladybug explain that bug activity in retail stores comes with the territory – especially if there is a large amount of imported goods regularly arriving on the doorstep from distant lands.  But regardless of potential unwanted imports – business has to go on so what steps can be taken to ensure that customers and store owners have a good shopping experience?
Bugs in Food Stores
Food store owners and managers are well versed on the need to uphold the strictest hygiene practices to reduce the risk of attracting unwanted bugs.  There are several bugs that will always be attracted to the produce or bakery sections of stores – so knowing this in advance can help prepare management and staff of any undesirable sightings.  Flour products tend to attract different types of beetles – the red flour beetle, drugstore beetle, and the confused flour beetle.  Don't be fooled by the name – this beetle is far from confused and knows exactly what its objective is when it takes up refuge in flour bags and bins.  These reddish, glossy shelled beetles are easy to spot in flour – but have also been known to hide-out in rice, cereal and cracker boxes.  Laying up to a hundred eggs at a time – this bug presents an issue to store owners both from a stand-point of damage to valuable food and for the potential introduction of pathogens.
Presence of Fruit Flies
Annoying at the best of times – fruit fly presence can become irksome to store owners and restaurant managers due to their attraction to over-ripened fruit and vegetables.  Often noticed hanging around garbage receptacles or boxes of unrefrigerated items – fruit flies can be harbingers of disease-producing organisms that can contaminate food.  Their swift removal is recommended to avoid contamination of produce.
Calgary Pest Management and Exterminators at One Man and a Lady Bug welcome enquiries from stores regarding pest control solutions – call today and ask about the monthly specials 403.262.1666