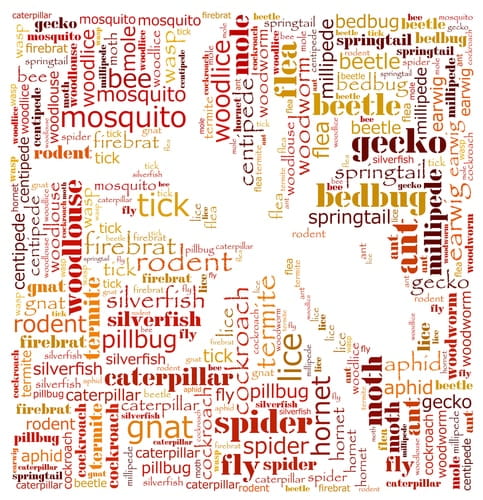 One Man and a Ladybug Pest Control Company in Calgary knows what it takes to get rid of all the pesky pests that inhabit your office, home, or yard. Specializing in Residential and Commercial Pest Control in Calgary – this city Pest Management Firm focuses on using only environmentally conscious solutions to handle all manner of structural and landscape pest concerns. In the summer and early fall Calgary Pest Control Firms are busy handling calls regarding spider, ant, wasp, moth, and bee infestations – along with requests to manage pests that have caused problems in different trees.
Tree Spraying is a speciality of One Man and a Ladybug – and knowing that your yard is only being sprayed with human and pet friendly solutions – makes calling this Calgary Pest Management Company an easy choice to manage tree infestations that may include – Elm Scale, Satin Moth, and Yellow-Headed Spruce Sawfly.
Elm Scale is a major concern for Calgary trees – and is causing undue stress on elm trees across the city. The Calgary Herald did a feature back in June, highlighting just how serious this disease is for Calgary Elm trees – and homeowners who suspect an elm tree may be infected are encouraged to call a professional company to address the severity of the disease. Infested Elms reveal the tell-tale sign of branches blackened with the sooty mold that accompanies the sticky residue of this annoying – sap sucking pest. Early detection and action is important to gain control and prevent the spread of Elm Scale – as this pest not only severely stresses the tree, but can actually kill the tree.
The Satin Moth makes victims out of Poplar trees and have quite a presence in Calgary due to not having a natural predator – yet. Calgary golfers may be familiar with seeing hoards of white moths scattered over fairways – the Satin Moth can be identified by their black and white banded legs and tent-like wings. The caterpillar does all the eating of poplar leaves – in fact it gorges itself on leaves and lays eggs on the trunk of the poplar. The good news is that the eggs are usually laid low on the tree so can be easily removed – and the tree itself can be saved if a Calgary Pest Control Company is called as soon as the pest is noticed.
The yellow-headed spruce sawfly is the most common sawfly in the Calgary region and the damage it creates is easily noticed by the often complete defoliation of spruce needles and just a few token brown needles left on the infested tree. What is sometimes thought to be browning due to the environment is in face an infestation of the pest known as Yellow-Headed Spruce Sawfly. Treatment and monitoring is essential to prevent complete devastation to a Spruce tree.
Pest Control Company in Calgary – One Man and a Ladybug is knowledgeable and skilled in the diagnosis and treatment of all tree pests. Don't let the curb appeal of your property be affected by infested trees – call One Man and a Ladybug today 403.262.1666
This article was written by Angie Naimi. Visit her on Google+